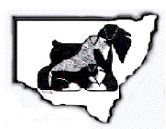 Welcome to the Schnauzer Club of NSW Inc (Australia) Website.
Feel free to browse around and learn about our favourite breed of dog, the Schnauzer (including Miniature, Standard and Giant Schnauzers).
The Schnauzer Club has a main goal which is betterment of the breed, and asserts that its membership have an obligation to the Schnauzer (including Miniature, Standard and Giant) breed, to preserve the magnificence of the breed without exploiting it. The Club was established with those goals in mind and as we expand into each new area of involvement, the Club continues to strive towards those goals. The Club's membership is actively involved in all those facets of the Breed that contribute to these goals.
Please look around our website and read/learn about our breed, and remember to come back for updates and other information.
SCNSW 9th Agility, Jumping & Games Trial Catalogue is now available
on the Agility page under Shows & Trials
Don't forget to renew your membership
2016/17 Membership form is now available - click here to download
Point Score Results for 2015 are now available.
To view results go to our Show Results page and click on the link.
Photos of the 98th, 99th and 100th Schnauzer Club of NSW Championship shows for 2015 can be viewed on our Gallery page.
Make sure you check out our Events, Shows and Trials pages to find out more information about future events
Point Score Shows for 2016 are listed in Events and on our Facebook site
Don't forget ......!
to find us on Facebook under Schnauzer Club of NSW
and
Schnauzer Rescue NSW
to keep up to date with what is happening.
All Rescue Enquiries must go through our Rescue Co-Ordinator Glenda Renshaw please email her directly at:
70790 Visitors